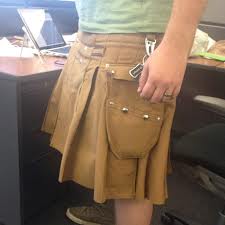 Men in skirts? No..
                                                                        Its a Manche
                                                       
This man is not in a skirt; its a Manch
A man should never wear a skirt.  I do believe however that a man should wear any garments liken to that silhouette, but should never be called a skirt if dawned by the man.  If  man prefer not to wear pants, then I believe he should reserve the universal right to wear that which is not pants, but rather garments such as, or similar to a Manche, a  kilt, (Scotland) Kanga, (Africa) Munda (Kerala) Parero (Tahiti) Lava Lava  (Polynesia) While all these garments are of a ethnic distinction, I believe we should adopted for the western man,  a profile of such attire, that is universal and should have a name indicative of men. I call this the MANCHE  
Men are clamering to reach the next level of fashion, part of that experience is to wear what they are now calling skirt. If indeed men are wearing skirts its because, we are not making that which is for man; for the moment  the most commonly acceptable garment of the genre are kilts. Every man should have one, but it must be  called Manche, when not specific to ethnicity.