Men's fashion future, not terrifying, just changing.
While it may seem, by looking at designers collections of men's fashion  at London fashion week, that the future of men's fashion is terrorizing our visual aesthetics or simply terrifying, to imagine the future of men's fashion along these lines. I can say with tremendous certainty that we are and will step into MFF  ( men's fashion future ) with style and grace.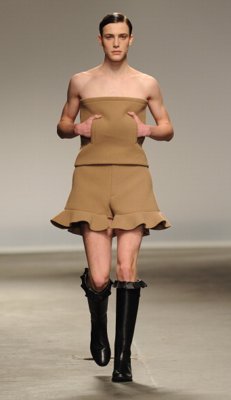 There is no doubt that men's fashion as we know it is on a drastic path of change, and a change we all eagerly anticipate, but wait, what we are now seeing is just a product of a paradigm shift, which is inevitable. So be not alarmed, the reality is, change is here, but seriously so, taste and style is or will not be lost, not even on the fashion foolish.