Men in skirts debate
The man in skirt debate is really heating up. The more research I do and the deeper I look, the more transparent it becomes that more men than we generally think,  have a sincere desire to wear skirt, which as you know here at a man dressed, we call it the Manche More men, worldwide  are standing up for the right to wear this garment, outside of the ethnic context. Women when presented with the question; Should men wear skirts? ( Manche ) Many agree they should, reasons being, they are sexy, comfortable, added choice to wardrobe.
For more than two decades, designers have attempt to introduce this  kilt-like style to the men's ensemble, only to be met with whimsey ridicule.  Now in 2015 you can observe a blossoming of change and languid acceptance. It seems, however that men have to do period protests in trying to get the point across, that they are ready, and want to wear manche ( skirts ). The poles have spoken, over 90% of men say they want, or don't mind  wearing skirts ( the  manche ) . After all where did this arbitrary rule come from that men must only wear pants?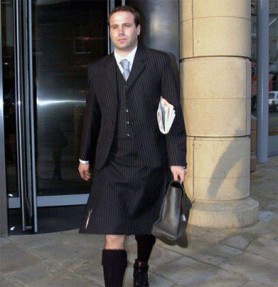 There today many niche markets which produce these garments, true you wont find them in your regular department stores, not yet, but very soon. If you have ever considered taking part in this movement, or just want to feel free to wear clothes like this, or even wonder where to find such items,  you can start here, alternately you can have a talk with a designer  ( such as myself ) or your local taylor.  I maintain as part of creating a style that is all your own, while at the same time getting in touch, with self and expression, every guy must consider this fundamental genre of dress. If you want comfort, while looking this is the way to go.
Thank you for visiting. Please take four seconds to tell us what you think,  or ask some question, by leaving a comment below.