Fashion Designers:
Fashion designers are; artists and artisans, who bring a particular design aesthetic to clothing and accessory; creating beauty and emotion, while anticipating trends that invokes changes in taste, style and social expressions.
I believe, as with any other fields of creativity, such as science, technology, medicine, music, acting, writing, or any of the varied disciplines, which gives utterance to the human experience; the creator was born with the ear, eyes, touch, and fervor for such expression. And while I also do believe that anyone can do anything, I think everyone is born with one thing that is unique to them.  Here I speak of the fashion designer/artist that was born with, what I call the eye.   A real fashion designer has the Eye.  I once worked with a seamstress,    very talented and amazing; she was able to translate anything I sketch on paper, no matter how bad my drawing. As I spoke conceptually of a design idea, which was so clear to see, even putting the pieces of fabric together, she was just not able to see what I saw. Just like the concept of algebra, that tends alludes me; because the mathematician in me is for another life. So a to all designers, it's time to change the tides of men's fashion.
Fashion Designers to appreciate.
Vivienne Westwood.
Craig Green.
Raf Simons.
John Galliano.
I list these designers because they tend to be very fashion forward in their aesthetics, and I think will to the man getting in touch with his fashion-forward self.
What's New:
It a universal truth that men's fashion has been moving at a snails pace, regarding the change, it is subtle, or drastically foolish. But not alway. Like the narrowing, or widening of the pants leg, ties, jacket lapel.  Buttons on the ever static suite jacket, making it double or single breasted and there is the ever unfortunate trend where pants were so big that they were falling off the man's bum, and they must continually pull then up.  Thank god this was just a trend, which has reached it's  ( fortunately for many ) welcome decline.
    This is not new


Whats new; is the fashion forward look, where men are now stepping out of the old paradigm and embracing a more creative, individual, artistic and tasteful look. Designers are, though slowly, braving it up and providing men with more fashion choices, where by they can ( and do ) express comfort, individualism, and personal creativity for which they are so admired.
Example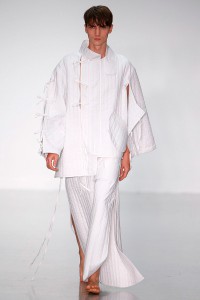 As a designer coming up and out, my desire is to see more styles of good fashion form and comfort readily available to our men around the globe.
Please continue to visit and I sincerely welcome you to leave your comments.