The future of men's fashion is becoming big business.
The discussion around men' s fashion is now resonating strongly, not only within the fashion industry but inside the enterprise arena. The business of, women' s fashion has been a thriving financial universe for more than a century while men's fashion remains a habit of general practicality, wherein lies the edict of our discussions. In other words gone are the days when men's attire are behest by the hierarchy of perceived elegance and codes of conduct.  The future of man's fashion will articulate a more creative and individualistic identity, where the behavioral norm is no longer predicates on the classic aristocracy of men's attire. Consistently a deeper look into the interpretation of this unfolding trend is now taken place, more business, marketing tools, magazines, designers, and everyone in the business of fashion and beyond are acting, talking, developing within the scope of this new and forward paradigm.  It is a fact that most recently men are now spending more money on shoes than women; more men are taking to online social medias for new trends, ideas and how to. Online shopping for men's  apparel and accessories are at an all-time high, so there should be no wonder why large companies are now having some discussions, and at this point, if they are not, they should. It's quite evident that that the debates surrounding men's fashion in all aspects of dialog, in particular, as it relates to this article and all of this kind, is in the Genesis, and we will experience so much yet to come.  The colloquy continues.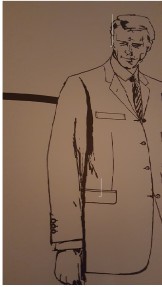 Thank you for stopping by, I hope these words have  inspired you and have  given you new thoughts on men' s fashion. Please share your thoughts with us, leave a comment below and come back again.