A Manche Is.
If you searched Google, for the word manche.  You would find it to be a district in France near Normandie. I was not aware of this when I thought of the name Manche, which was to describe any garment that is worn by a man, that is not pants, trousers, knee breeches,  Bermuda shorts, or any other apparel with legs made for men. I thought manche is a clever name for any garment worn by men; that resembles the kilt, sarong, lungi or Skort (which is what some designers are now calling it) or any attire of that nature. ( As shown here )  This legless mode should have a global charge and free of ethnic association. Tha name Manche embodies masculinity.  I hold that a man must freely wear a legless garment, but it must never be referred to as a skirt while carried by the man.   
There is an unspoken belief that because the nature of this male costume is considered an ethnic formality,  it is typically not seen as a rational choice of fashion/fashionable attire for men. An idea in a state of rapid change. As a designer, I  advocate this change. One I am sure is long overdue.
More men, than you can imagine are wearing, or want to wear this particular mode of style, without being considered feminine offbeat, or just not seriously fashionable. The manche is far from feminine. From a cultural viewpoint, this manner of dress has long been downed, by the most masculine of men throughout the ages; I want to speculate safely here, that by wearing a manche the man does indeed feel, manly and quite fiercely so. I'll stand to argue this point with wicked delight.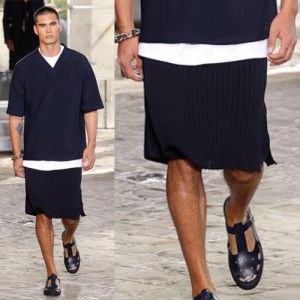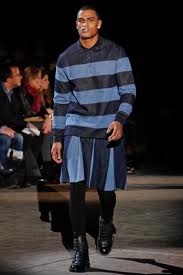 Recently We are witnessing the emergence of a  definite trend toward the manche. I believe firmly that this trend is taking hold and will only increase as more men discover the chic comfort in wearing a manche, kilts or any genre of this kind. Personally, as a woman, this is the kind of Men's dress that makes me weak at the knees and mesmerized by the "fashion sexy-ness" of it all.

Stay tuned; as I will be getting more into this topic in future blog post
For now, I would love to hear from you, tell me will you join this trend?
Let us talk.
Thank you for stopping in.
Sheree.